Check your application
After you submit your online application, you will be notified by email if you need to provide any additional documents.  
---
Learn more about USask Engineering
Watch the USask Engineering Campus Tour with our Saskatoon Engineering Student Society tour guides. Tiny doors? Scary grad photos? You'll see it here, plus useful info too!
---
Register for UStart
UStart pre-orientation is a collection of virtual and in-person activities that happens in late May/early June.
We provide you with the information you need before you begin classes in fall.
We welcome you to USask Engineering and build excitement for fall classes!
Once the events are scheduled we will post them here. 
---
First-year Handbook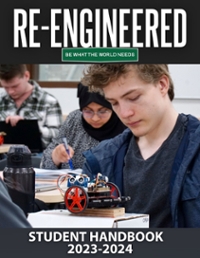 Key information you need before and during your first year at USask Engineering.
---
Register for Classes
All students in the RE-ENGINEERED first-year program at the College of Engineering register for block classes, meaning you will register for one group, or block, of classes.
The block schedules will be posted here prior to registration. 
Don't forget about the half-speed option
The half-speed option stretches first-year courses over two years, in case you need more time for family, a job, sports or studying. You will still be considered a full-time student. To enroll in the half-speed option, register for a full block of classes, then book an appointment with an academic advisor in the Engineering Student Centre, who will move you into the half-speed option.
---
Do the RE-ENGINEERED Jumpstarts
RE-ENGINEERED Jumpstarts are mandatory online quizzes and tutorials in Math, Physics, Chemistry, English and Indigenous Reconciliation, largely based on high school material. They will help you review concepts and material you will need to successfully start first-year engineering. 
• The Jumpstarts will become available in August.
• You'll have access to correct answers and tutorials, so you can top up your high school knowledge and skills if necessary; you won't need your high school textbooks.
• Each set of quizzes will take one to two hours; you may take them more than once.
• An email will be sent to your PAWS account when the Jumpstarts are available.
• After classes begin in September, teaching assistants will be available to help if something has you stumped.
• Taking the Jumpstarts will give you experience with the university's new online learning system, Canvas, as well as another one called Mobius.
---
Fall Welcome
USask Activities
USask has the info you need as you begin your student life here. We'll post info on Fall 2023 activities as it becomes available. 
---
Discover more USask resources
USask has more information about academics, finances, health and wellness and more.
---
Learn even more about USask Engineering
Your December Discipline Experience
In our RE-ENGINEERED first-year program, you won't be writing finals in December and April. Instead you'll be learning more about the different engineering disciplines.
Engineering: It's more than you think!
This event explores the incredible diversity of an engineering degree. Hear from USask Engineering students, alumni, professors, and researchers about where their degrees have led them - from a mechanical engineer who's developing eco-friendly plastic to computer engineering students who are building smart sensors for farmland.