2023 C.J. Mackenzie Gala
of Engineering Excellence
Distinguished Lecturer June Verhelst
Meet Distinguished Lecturer June Verhelst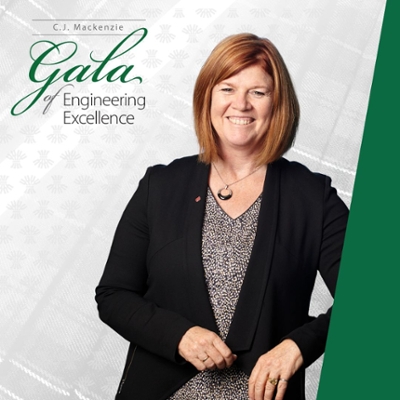 On January 31, 2023, the College of Engineering at the University of Saskatchewan, in partnership with the host department, Civil Engineering, celebrated the achievements of alumna June Verhelst (BE'83 Civil) at the 46th C.J. Mackenzie Gala of Engineering Excellence.
Each year, the gala recognizes a member of our alumni community who has achieved a position of eminence within their profession and honours their achievements.
They are honoured as the evening's Distinguished Lecturer and are inducted into the College of Engineering's Alumni Wall of Distinction.
---
Tickets
The College of Engineering was joined by engineering colleagues, industry professionals, faculty, staff and students to celebrate engineering excellence.
The gala is always a terrific networking opportunity and a time for the engineering community to celebrate one of its own. 
Thank you to our sponsors



Contact Us
Gala planning:
Ian Goodwillie (2023 Gala)
Alumni Relations and Events Coordinator (Term), USask Engineering
Email:
ian.goodwillie@usask.ca
Sponsorship:
Barb Yanciw 
Donor Relations Officer, USask Engineering
306-966-5575