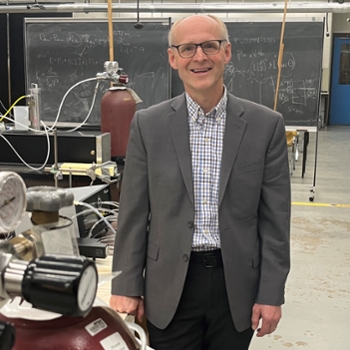 Dr. Carey Simonson (PhD) is the interim dean of the University of Saskatchewan (USask) College of Engineering.
His term began July 1, 2023 and will last for up to one year or until a new dean is appointed. He succeeds Dean Suzanne Kresta, whose term concluded on June 30, 2023.
Simonson is well known to the USask community as an outstanding researcher, a talented mentor, and strong leader. He completed his BSc, MSc, and PhD degrees at USask, then became an assistant professor at USask in 2001 and was promoted to professor in 2007.
An internationally recognized expert in heating, ventilation and air conditioning (HVAC), he is included on Stanford University's list of the top two per cent of the most-cited scientists in various disciplines, which is one of the world's most prestigious rankings.
He is also a fellow of ASHRAE (American Society of Heating, Refrigerating and Air Conditioning Engineers), which is the premier society in his area of research, with 50,000 members in more than 130 countries. Fewer than one per cent of ASHRAE members are fellows.
Simonson has supervised more than 50 graduate and postdoctoral students to completion and has more than 170 peer-reviewed journal and conference papers. In 2017, he received both the Teaching Excellence Award from the Graduate Students' Association (GSA) and the Distinguished Graduate Supervisor Award from USask. In 2018, he was recognized as one of Canada's most outstanding graduate mentors, named one of 14 national finalists for the Canadian Association for Graduate Studies Award for Outstanding Graduate Mentorship.
In 2020, Simonson joined USask Engineering's leadership team as associate dean graduate studies and strategic projects. In this role, he has overseen responses to graduate program reviews for the college, and he has mentored graduate students to success in their aspiration to host an annual research conference in engineering and in the development of the Engineering 3 Minute Thesis competition. 
Simonson has also facilitated the development of policies and processes to improve the management of graduate program supports and graduate office allocations in the College of Engineering. As well, he set up the terms of reference that enabled USask to join a national Indigenous and Black Engineering/Technology (IBET) program, which will build capacity in the engineering community for Black and Indigenous students who wish to complete a PhD.

Simonson has also been involved with detailed planning for the IDEAS (Innovation, Design, Engineering and Applied Sciences) building project to renew the Engineering Building.