"December 6 is a day that always reminds me of where we are and where we've come from," says University of Saskatchewan engineering dean Suzanne Kresta.
On December 6, 1989, 14 women were murdered at École Polytechnique - most were engineering students. The violence left other young women in engineering schools shaken but undeterred.
This year, as the 30th anniversary of the shooting approached, Kresta and her counterpart at the University of Guelph, Mary Wells, wanted to reflect on what's been accomplished by the women who built their engineering careers after the shooting.
The result is 30yearslater.ca, a website where 30 female engineers are profiled, highlighting their dedication to their profession and honouring the young women from École Polytechnique who were not able to fulfill their own dreams and goals. 
Kresta and Wells spearheaded the initiative through Engineering Deans Canada, getting buy-in from deans across the country, who nominated an alumna to be profiled. USask's feature alumna is Karen Nielsen (BE'89). After graduating with distinction, she built her career in the petroleum and energy sector and is currently Chief Development Officer with Calgary-based Seven Generations Energy.
Below, Kresta reflects on the 30 Years Later initiative, the messages it holds, and what's happening in the USask College of Engineering on December 6.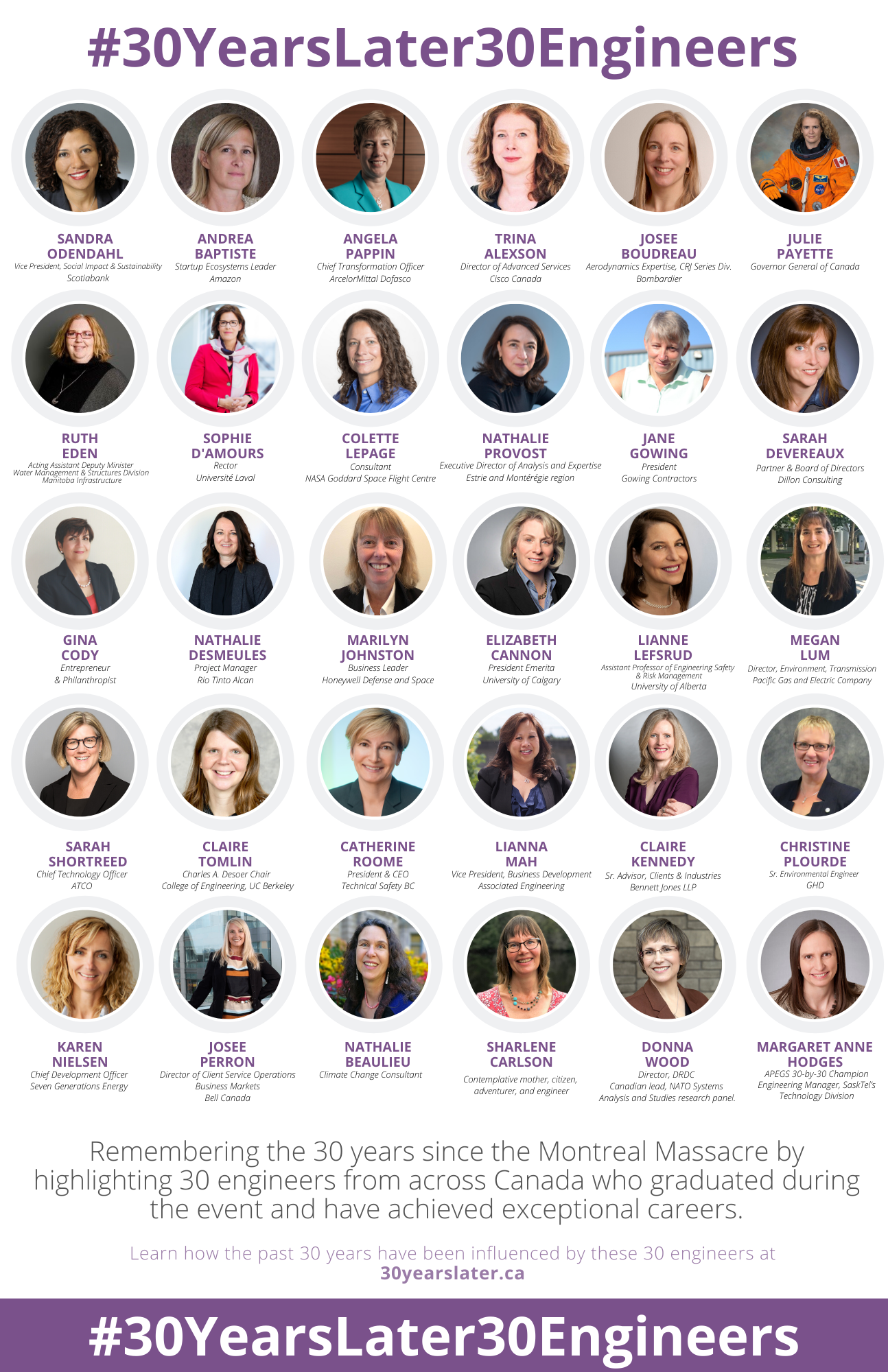 What inspired the 30 Years Later idea? 
The lost potential in a single young life is so heartrending, and these profiles are a vivid illustration of what we mean by that "lost potential." In this way we honor the victims in a very concrete and measurable way. I also wanted to share just how remarkable a life in engineering can be because this is a question we are often asked.
What impact could these success stories have on the lives of young women in engineering programs today? 
I want all of my students to believe in what is possible. I want them to reach out to fulfill their own highest truth, and to believe in themselves not only as brilliant young professionals, but as worthy human beings who are part of a community of friends and colleagues. If 30 or 300 or 3000 young women see themselves in one of these stories, and they leave stronger and braver and more able to see their future, we will have succeeded.
Of the 30 female engineers highlighted, what are some of the exceptional achievements that stand out for you?
As I read through these stories, I was struck by how diverse the achievements, interests, and career paths are – and by how frequently our generation of engineers was specifically focused on expanding both the impact of women on the profession – and the recruitment of more women into the profession. These 30 women have touched many of the major technical challenges of the last three decades, and I would love to have lunch to get to know them all better!

How will the 30th anniversary be recognized in the USask College of Engineering?
We are having an event with Karen Nielsen for our students, faculty and staff, a relaxed conversation among colleagues, to hear her personal story, and talk about women in leadership, the importance of mentorship and what women bring to engineering.