Entrepreneurship was not on Yufeng Wang's radar when he arrived at the University of Saskatchewan in 2004.
Armed with a scholarship, he came to Saskatoon from China to gain his PhD in Structural Engineering with the hope of an ensuing career. Even his supervisors, impressed as they were with his work, didn't see his future coming.
"I really enjoyed working with Yufeng. He's a very intelligent man," said Bruce Sparling, associate dean, academic, College of Engineering, who was his co-supervisor with Leon Wegner, then department head in civil, geological and environmental engineering.
"He's a very quiet person. He's not somebody who would strike you as someone who would go out and be an entrepreneur. (But) he has this hidden determination. When he decides to do something, he works away at it until he's accomplished it."
Wang left the campus in 2008 and took on a full-time job, his doctoral defense still in the future. Yet in 2010, before he had even convocated, Wang started his own company. It was tiny at first — just himself and a partner. But today, Baydo Development Corporation along with its four sister companies are perhaps collectively best described as a juggernaut by Saskatoon standards.
"That was not the plan when I started university," Wang said in an interview.
"I changed my mind after I started working for two years. At that time, I realized we had a very good opportunity to start a business."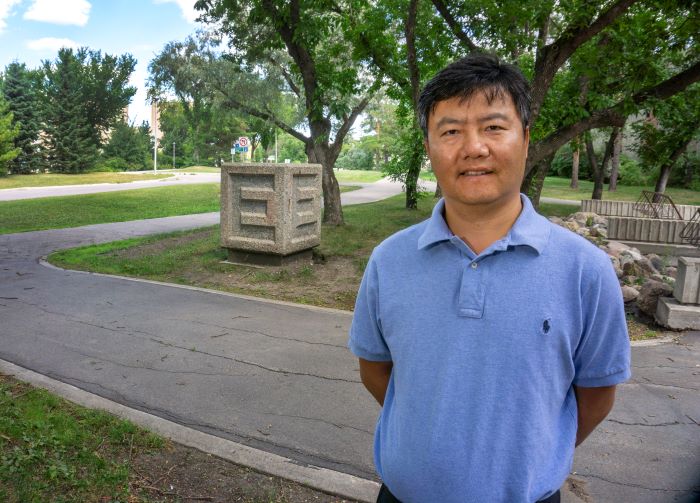 Despite some impact from the 2008 financial crisis, Wang could see that Saskatoon was weathering the economic storm quite well.
"Our Saskatchewan economy had the best eight years in 2006 to 2014. Actually in 2010, we had the best (economy) in North America. The economy was booming so work opportunities were very good."
Also in 2008, Wang and his wife purchased their own first home. The process of finding and buying a home persuaded him that housing demand was strong. The population was also growing, but the housing supply, in his view, was inadequate. And so, he and his brother-in-law — who had development experience in China — plunged in.
"That's why we decided to start. Risk was low, demand was very strong."
Baydo's first project was a 48-unit, two-phase townhouse development in Stonebridge. With a primary focus on rental space, the company then built Baydo Place, comprised of 118 rentals and 34,000 square feet of commercial space. Two other developments, one with 140 units and another with 228, followed.
Baydo has been constructing a building named 880 Broadway at Broadway Avenue and Main Street, which will have retail space, office space, eight storeys of residential units and two and a half storeys below ground for parking. Completion is expected in 2021.
And now, the company's largest project is underway. Baydo Towers will be comprised of two 25-storey buildings, rising on the corner of 25th Street and Fifth Avenue downtown. Wang says there will be 460 to 480 units with four underground parking garage levels. With a completion date of 2022, the project's cost is estimated at $110 million. Wang believes it is the largest residential development in Saskatoon's history, and the location is excellent.
"In downtown we (haven't had) a new building in the last 20, 30 years," Wang said. "We are across the bridge from the university, the University Hospital, and also the City Hospital is right behind our development."
Chris Guérette, CEO of the Saskatoon and Region Home Builders' Association, also believes Baydo Towers will be the biggest-ever development. She noted that Baydo was an association member "from day one," which attests to how serious Wang was and is about doing everything properly.
"They invested in the association; they are very high sponsors. Yufeng and his company have been very supportive, but they're always very humble. They want to make the industry better, not just their business."
Baydo's leap into the market with a large development was rather surprising, she added.
"It's astonishing. His first project here was a townhouse development with 48 units. Start-up businesses don't do that. It's rare you see companies coming in and going big like this. But he has a different model. He taps into his community and is very supportive of people who come here.
"Just their investment alone, not including the trickle-down effect, has been $150 million. The effect on the economy is huge."
Wang's engineering background informs his design and construction process. For example, Baydo and its sister companies, employing 120 to 150 people depending on various factors, are always seeking ways to make building easier and better. When possible, components are built in the shop and brought to site. It is prefabrication, but it does not sacrifice the integrity of the buildings, Wang said.
A rare process in Canada, which may be unique to Saskatoon, is the installation of steel sheet piles — long structural sections that interlock to create continuous walls.
Once the design is complete, Baydo turns the construction over to its sister companies which do concrete foundation work, excavation and paving, exterior finishing and steel manufacturing.
"He's come up with . . . innovative ways to solve the problems that add time and cost to a project," Sparling said. "He's really focused on the details of how you build buildings and better ways to do things. That comes out of the research.
"In PhD research you have to be innovative; you have to come up with something no one has done before. He was working in a very technically challenging field."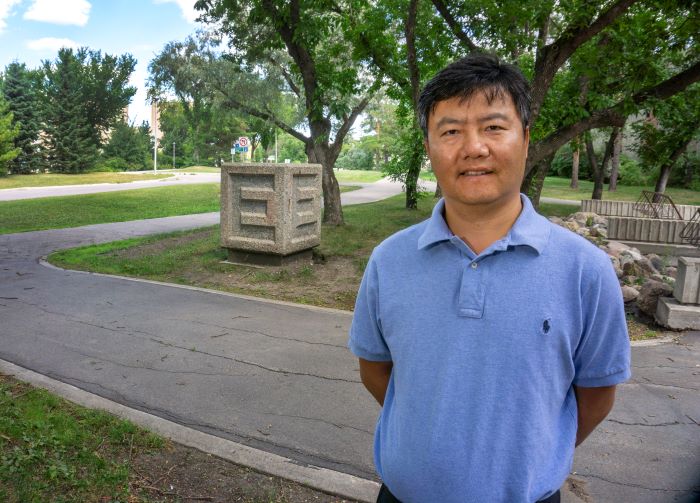 The PhD project was focused on determining bridge damage by measuring vibration before and after structural problems arose. Sparling explained that structural changes can be very small, and they were investigating more reliable methods of measurement.
"When he did his work, he was very meticulous, careful and dedicated, and kept working away until he had solved the problem. That appears to be the way he's gone about building his buildings."
In addition to busily building out Saskatoon, Wang has also become involved in the community and remains a supporter of the College of Engineering, having established four scholarships. He has founded the Dr. Yufeng Wang Trust Fund in Structural Engineering, which supports three annual awards: the Graduate Award in Structural Engineering, valued at $4,000; the Undergraduate Prize in Civil Engineering, valued at $2,000; and two $2,000 Undergraduate Awards in Civil Engineering. Wang has committed $500,000 to the 30-year funding of these awards.
He is also engaged in supporting other businesspeople who come to Canada, in part through the Saskatchewan Chinese Business Immigrants Association.
Adjusting to Saskatoon, he says, was not difficult — not even its winters. He was born in a cold part of China where temperatures can reach minus 20, and he was accustomed to snow.
"The heating systems are better here," he said. "In China, in some places, you had to wear a jacket even inside."
Saskatoon is also warm in other ways, a factor in his decision to stay.
"I liked the people. The people are so friendly here. That was the first thing. When I tried to cross the street, all cars would stop. If I didn't know where to go, people always asked if I needed help. Also we have good water, the air quality is good, there are wide open spaces."
He has placed Baydo in a relatively unique space in Saskatoon, as a developer, builder, engineering and design firm and building owner. The model doesn't work for most developers, he says; but his background and the need to be careful with costs have led him down this road.
"We own the majority of the buildings, which are built for rental, not for sale. It's a unique structure and business model. We are more efficient because everything is done inside the group. We try to be great, so we have to be special."
Sparling is delighted to see Wang succeed.
"I'm really thrilled for his success, because he is such a hard-working, nice, humble guy."