The STIC Awards celebrate the people, projects and products leading science and tech in our community. They are hosted by the Saskatoon Regional Economic Development Authority (SREDA). USask Engineering is proud that two projects led by our faculty members won accolades at the 2021 edition of the awards.
SIGMA Entrepreneurial Project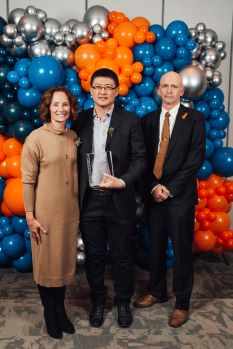 The SIGMA entrepreneurial project for students won the Outstanding Initiative Award. SIGMA – which stands for Saskatchewan Innovation Growth & Market Acceleration – was launched by Assistant Professor and LaBorde Chair in Engineering Entrepreneurship Tate Cao (MSc '11 Biomedical Engineering), who is based in the Graham School of Professional Development. Alix Hayden, USask's Associate Director, Research Excellence and Innovation, also provide support. During summer 2021 the initiative engaged six student teams in the first stages of their start-up concepts.
"SIGMA Skill Accelerator is a product of the community. Supported by PrairieCan, Innovation Saskatchewan, and our dedicated community volunteers, the program focuses on the founders of the start-ups and their skill levels," Cao said. "We believe that in the community we can support the development of knowledge, passion and skills as our students take action to be the engineers the tworld needs. We want SIGMA to be a pipeline for developing and strengthening founders and highly trained employees and leaders for existing companies."
Deep learning automated diagnostic systems from medical imagery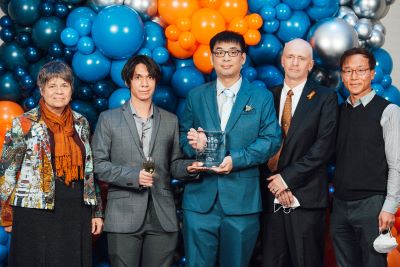 A research team led by Professor Seokbum Ko, Acting Head of the Department of Electrical and Computer Engineering, won the Project Award. The award, also dubbed the "most likely to save the world category," recognized the team's commercialization of deep learning automated diagnostic systems from medical imagery. This involves breast/lung imaging, rib/bone imaging, and COVID-19 work.
"This SREDA project award is not only recognition for the achievements of my lab so far, but also an encouragement for the future," said Ko. "I have had the privilege of working with wonderful collaborators including Korean Radiologist, Dr. Gongyong Jin and his team, and exceptional graduate students. I look forward to continuing this exciting research to implement AI-powered solutions in medical diagnosis."