It's a track record that likely can't be matched by any other USask graduating class.
For more than 50 years, the Class of '68 mechanical engineering grads from the University of Saskatchewan (USask) College of Engineering have gathered for class reunions. While the COVID-19 pandemic unfortunately put an end to their streak, it remains an enviable achievement.
Bob Logan, one of the '68 grads, says he's never heard of another group that has remained as connected. "When we've talked to other classes, no one else has been holding reunions as long. I'd like to challenge the college or even the university to come up with somebody that has," he said in a recent interview from Calgary.
His classmates credit him with getting the reunions off the ground back in the day and then working hard to keep them going.
"From the day we graduated, Bob was taking notes of where we were going to work and where we were, and he always kept in touch with us," recalled Doug Frame from his home in Calgary. "I think anybody you talk to from our class will tell you that it was a wonderful thing he did.
"He's really kept the class together. He is the glue."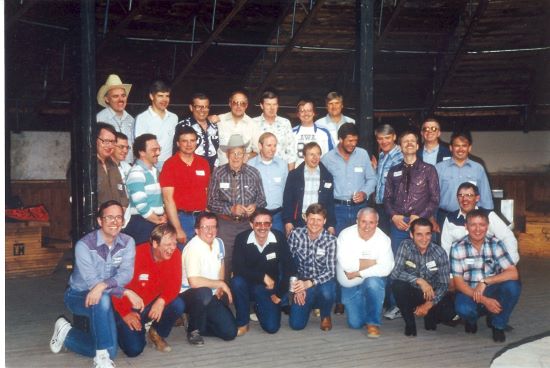 They've gathered, usually in June, in a variety of spots throughout the West: Calgary, Kananaskis, Radium Hot Springs, Salmon Arm, Victoria and Great Falls, Montana to name a few. And since 2010, a part of the group has held a "half-year" edition each spring in Arizona.
Along the way, the group has adopted a few kindred spirits, including former assistant dean Buck Staples, who was held in great affection and attended many reunions.
Frame noted that the group has been fairly lucky with good health and though eight or nine members have passed away, about 50 remain.
He also says there's another reason for their success.
"Over the years our wives became good friends. They look forward to the reunions as much as we do, and that's important."
Plus, the reunions are simply a lot of fun.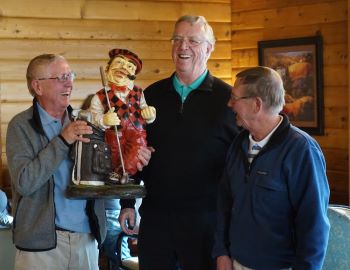 With golf a key part of the proceedings, a booby prize has been created. "A little statue showed up at one of our reunions and it's a real ugly looking thing," said Logan. "Getting it is not something you look forward to."
And it's well known that a reunion won't be officially complete until Brian Murphy has told his favourite joke, which he recounts with relish.
"I was a fun seeker when I first got to the college," Murphy said in an interview from Calgary. "I had too much wine in my third year – the first time – and failed out and had to stay out a year. I worked at the Allan Potash Mine, got married and went back to school and finished my third and fourth years after that.
"When that happened, a professor had said to me, 'Murphy, just keep going. We mark on a curve and there'll be a dumb class that will come along, and you'll get swept in with it and you'll get pushed through by marking on the curve,' " recounts Murphy, the smile evident in his voice.
"So, every year when the class gets together, I get up and I thank them for being the dumb class that allowed me to graduate. They know what's coming and they hiss and boo every time I start to thank them.
"It's all in jest, of course, because they're great guys and they all went on and did well."
Frame knows the story well. "We do a lot of joking and teasing each other about our golf and that kind of stuff. It's a lot of fun when we get together."
Since the June 2020 reunion was cancelled, the Class of '68 has not gotten together, but it plans to reunite in June 2022 in Calgary, and they're already looking forward to it.
"We're just a good group of friends," said Logan. "We've all gone different ways in our lives, but we always get back together and enjoy each other's company."