It was a capacity crowd that saw hundreds of USask Engineering students be welcomed to their disciplines at the University of Saskatchewan College of Engineering (USask Engineering) 2023 Hard Hat Ceremony on Wednesday.
During the ceremony, second-year students from each discipline are presented with a hard hat by professional engineers from the ranks of the college's faculty, alumni and industry partners. Watch the livestream of the 2023 ceremony on the college's YouTube channel.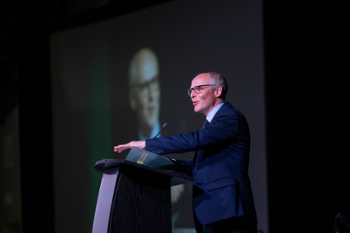 This year, for the first time, master's and PhD students participated in the celebration, which has become a favourite with students and their supporters.
"Know that you will continue to learn and grow throughout your careers," Carey Simonson, interim dean at USask Engineering, told the students. "You will one day join the alumni of USask Engineers, who are known as people who can get things done. You will be resourceful, hard-working engineers and you will build a better future for all of us and for our world."
Each of the disciplines and graduate degrees is represented by a different colour hard hat, making for a colourful display by the end of the evening.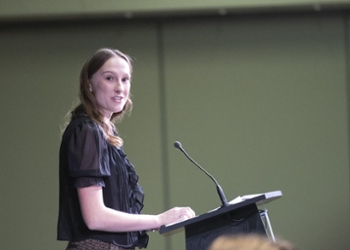 Before the hard hats are presented, a professional engineer welcomed each group of students to their program, with remarks that were often a combination of wisdom, wit and encouragement.
In her remarks, Natasha Bzowey (BE'23 Mechanical), now an engineer-in-training at Bioriginal, told students that being curious, resilient and adaptable is as important as accumulating knowledge and technical skill.
"A co-worker reassured me one day when I came out of a meeting overwhelmed with the fact that I knew nothing about what was discussed. They said, 'I don't expect you know everything, but if you can find the answers and become really good at solving problems, you will be a great engineer.' "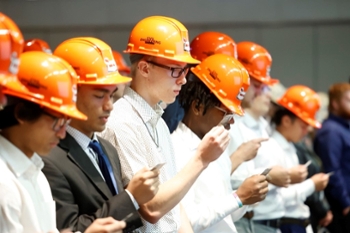 Sponsors of the USask Engineering Hard Hat Ceremony include Graham Construction and the Engineering Advancement Trust (EAT).
Since the early 1980s, the EAT has raised more than $4 million for lab equipment in the college.
"We give back so students can get ahead," EAT Chair Lesley McGilp told the students. She also highlighted that the EAT has begun supporting student-focused events like the hard hat ceremony because "community, connection and relationships are just as important in the college."
Before the ceremony closes, all students recite the college's Ethics Pledge, which is sponsored by Hatch Limited.
"The Ethics Pledge is an important step on your journey to becoming professionals and it frames our expectations of each of you during your time in this college," Simonson explained to students.
Thank you to our sponsors