Morgan Speiser loves math and science, so she feels it's only natural that she ended up at the University of Saskatchewan College of Engineering (USask Engineering).
"I like that you can always reach an answer with math and science and it explains so much about how the world works." She grew up in the town of Laird, about 70 kilometres north of Saskatoon, and graduated from Rosthern Junior College High School.
Speiser, who is Métis and has ancestry in the Muskeg Lake Cree Nation, received a USask Indigenous Student Achievement Award for academics during USask's recent Indigenous Achievement Week.
"I was extremely honoured that they reached out to me for this."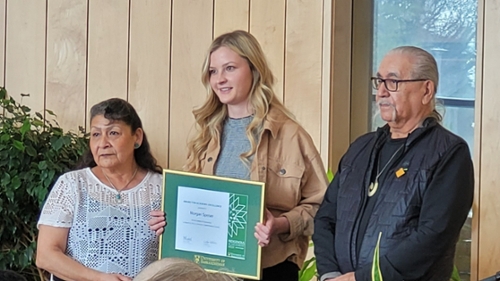 She is studying electrical engineering and is set to graduate in April 2024. After graduation, she'd like to work in power and distribution, advancing the systems that are already in the field.
Though she was a strong student in elementary and high school, she found the transition to university was a tough one. "It took down my ego and I was pretty destroyed for a bit, but I've slowly learned you've just got to push through and things will end up okay in the end."
While she's always had a good work ethic at school, she didn't always understand the role it played in her academic success.
When she was in Grade 6, she recalls a teacher explaining – a little clumsily – why she got high marks. "He said, 'Morgan's not smart, she just works hard.' I remember being so offended when he said that. 
"But now, when I'm succeeding in my classes, I know I'm not nearly the smartest person there. But if I just continue to push through and work hard, he's right, the success is there."
Speiser also believes the supports and sense of community she has experienced as an Indigenous student have helped her.
"I just feel extremely grateful those things are available," she said, pointing to scholarships and a high school-to-university transition program as examples.
"And there's also the awards geared for Indigenous students. . .. I feel personally, without that kind of support, I'm not sure I would have been able to get through university."
She also draws strength from being part of the Métis community. When she was a child, her mom took her to cultural events so she knew about that part of herself.
"Definitely since I've become an adult, I've been able to explore it more on my own. I've really come to appreciate that part of myself and I'm proud of it."
As she works toward finishing her engineering degree, Speiser says there are still tough moments but she has built a good foundation to work from.
"I try to put the focus on thinking that if I do things to the best of my abilities, I can't be disappointed in that. Even if the mark is not always exactly what I want it to be, if I know I did my best I can be satisfied and have confidence in that."