About
We support and empower female engineering students in the University of Saskatchewan Department of Chemical and Biological Engineering (CBE). We celebrate their successes and recognize their achievements here at USask and as they move into the workforce.
Committee members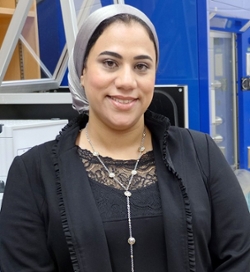 Dr. Amira Abdelrasoul, Chair
Dr. Abdelrasoul is originally from Egypt where she received her Bachelor's Degree in Chemical Engineering from Alexandria University. She obtained her Master's degree from Kuwait University. Dr. Abdelrasoul received her PhD degree in Chemical Engineering from Ryerson University in Toronto, Ontario. She is currently a member of faculty in the Department of Chemical and Biological Engineering and the Division of Biomedical Engineering at the University of Saskatchewan.
Dr. Abdelrasoul has spearheaded the pedagogical research initiatives to enhance the values of Equity, Diversity, Inclusion, and Integrity at Ryerson University in Toronto. Her academic contributions to Women in Engineering, Learning and Teaching Office and the Zone Learning in Toronto, initiated her interest to launch Women In Engineering – USask Chemical and Biological Engineering Chapter.
Dr. Abdelrasoul aims to promote and support the success of female undergraduate and graduate students to become invaluable in future positions. Dr. Abdelrasoul is proud of her research excellence, academic achievements, and her kids. She is enjoying life most when she is having fun with her kids.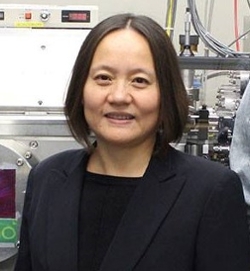 Dr. Catherine Niu, Co-chair
Dr. Niu is originally from China where she received her Bachelor's and Master's degrees in Chemical Engineering. She then went to McGill University in Quebec and received her Ph.D. in Chemical Engineering. She is currently a member of faculty in the Department of Chemical and Biological Engineering at USask.
Dr. Niu believes that it is essential for women to be represented in the engineering profession, particularly Chemical Engineering. Through the chapter's activities, resources, and recognitions, she seeks to inspire and support female undergraduate and graduate students to succeed in their programs and ultimately in their future careers. Dr. Niu is most proud of the solid education she has acquired in Chemical Engineering and for being a faculty member at USask. She is also a proud wife, and mother to two children. Dr. Niu enjoys reading in her spare time and is an avid fan of spicy food.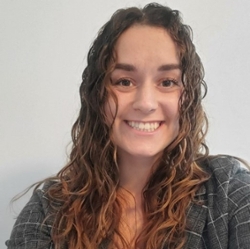 Marina Kehrig, Committee Secretary
Marina grew up in Calgary, Alberta, and moved to Saskatoon in 2017 to pursue her engineering degree. She is in the final year of her undergraduate chemical engineering degree.
She strongly believes in supporting women in engineering. In Marina's opinion, although representation in engineering is improving for women, there are always ways to improve this and inspire other young women to pursue careers in engineering. She is very passionate about supporting women in engineering, as she thinks women in engineering are incredibly valuable in creating meaningful change in the world through diverse backgrounds. Marina wishes for the WIE-CBE chapter to continue to foster a welcoming space for all female engineering students at USask, where they can celebrate their successes and provide meaningful support to continue driving change in the engineering community for current and future female peers.
Marina's greatest accomplishment is completing an engineering degree while competing as a full-time student-athlete with the U of S track & field team. Although it is very demanding, Marina is proud that she has been able to successfully do both!
Fun fact: Marina is a pole vaulter with the USask Huskies Track & Field team, and she has a twin sister in the College of Agriculture who is on the USask women's basketball team!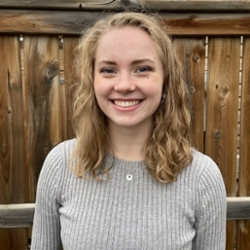 Sarah Harwood-Johnson, Undergraduate Student Representative
Sarah was born and raised in Saskatoon and is currently in the fourth year of Chemical Engineering at USask. She values equality and encouragement of all genders in USask Engineering. Sarah believes that diversity and inclusion are key components to innovation and developing new ideas to solve the world's problems.
Sarah wishes to encourage women in the college to pursue their education and career goals by overcoming boundaries presented to them. Moreover, she hopes to become a mentor for younger students in the college and visit high schools to encourage more young women to pursue engineering careers.
During her internship, Sarah was given the opportunity to manage multiple projects that addressed a major issue related to water consumption in the plant where she worked during her internship. She is proud of the work she completed and the progress she made in addressing the problem by running full-scale plant trials and documenting results in reports.
Fun facts: In her spare time, she loves reading novels because it lets her escape and absorb herself in a story and see the world from different perspectives. She loves to discuss books and would be happy to hear recommendations or chat about shared book interests!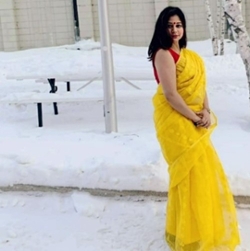 Alivia Mukherjaree, Events Organizer
Alivia is originally from West Bengal, India, and is currently in the fifth year of her PhD studies. She believes being part of WIE-CBE will provide her the opportunity to contribute towards STEM and to empower women in the field of chemical and biological engineering to make our world a better place. Through WIE-CBE, Alivia hopes to create a platform where successful speakers, including USask alumni, can share their wonderful experiences with the current undergraduate and graduate students to galvanize them. She also wishes to organize events about women in STEM to promote sustainability, equality, and diversity.
Alivia is proud to be a part of the USask community. She takes pride in the small and large accomplishments she made as a PhD candidate, which include getting featured in the Young Innovators story series,  winning the USask 3 Minute thesis competition, poster presentations, and oral presentations in several national and international conferences.
Fun facts: Alivia is an engineer by profession but an artist at heart. She is humorous and likes to make friends, which she believes helps her to connect with the stalwarts of her field.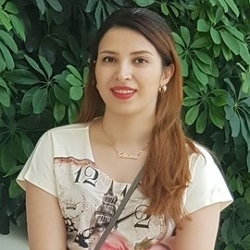 Shiva Aminian, Graduate Student Representative
Shiva is a Turkish girl who was born in Iran, and she is currently in the first year of her Master of Science Program. Shiva is willing to build awareness among engineer women and identify common hurdles that need to be overcome. Shiva thinks ensuring the rights of women across all areas will create sustainable economies that work for all since it is proven that empowering women helps economic growth and development.
Shiva is proud of her soft skills: being able to communicate easily with people and being supportive of her friends.
Fun fact: If she had the chance to earn money by playing mobile games, she would have chosen to be a gamer.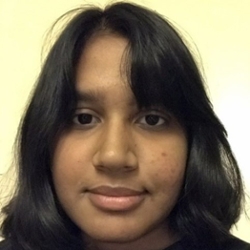 Priyanga Gandhi, Awards Coordinator
Priyanga is originally from Bangalore, India. She is currently in her third year of studying Chemical Engineering at USask. Priyanga believes WIE-CBE is a unique opportunity for her to be involved within the campus community, especially one that highlights women's achievements in the chemical and biological engineering field. She hopes to work with her peers to create a welcoming space for women in engineering. She is proud of her academic achievements and choosing engineering as a field of study.
Fun fact: Priyanga likes music and enjoys playing guitar in her spare time.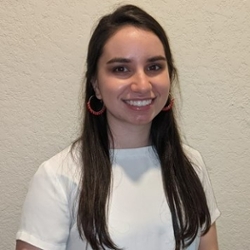 Nathalie Baquerizo, Communications Coordinator
Nathalie is originally from Guayaquil, Ecuador. She is completing the third year of her Bachelor of Engineering in Chemical Engineering and is currently doing a Co-op internship with the City of Saskatoon. Nathalie believes that women should support each other, and WIE-CBE allows for this to happen by providing students with opportunities that they would not have otherwise. She hopes more young female students who are pursuing a career in engineering become involved with the WIE-CBE chapter so they can network and create a strong bond to support each other.
Marina is proud of research she has completed with Dr. Ajay Dalai about marine fuels and their sustainable alternatives and her participation in the creation of a recently published report.
Fun facts: Marina enjoys playing volleyball and her favorite show is Fullmetal Alchemist: Brotherhood.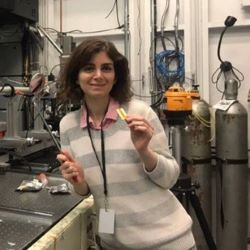 Nazanin Charchi Aghdam, Funding Organizer
Originally from Iran, Nazanin is currently working on her PhD in Chemical Engineering at USask. Previously this group's events organizer, she wants to empower women to succeed and raise awareness of the life-changing contributions of women in the industry. Nazanin hopes to create a community of empowered women in engineering and foster interest in STEM fields among future generations. Nazanin takes pride in being a mother and her passion for science and engineering.  
Fun fact: Nazanin is a chocolate monster!
Former committee members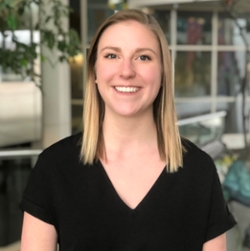 Kelsey Schmidt, Students' Representative
Kelsey grew up in Regina, SK and has lived in Saskatoon since 2014. She is currently completing her third year towards Bachelor of Engineering in Chemical Engineering. Kelsey believes in WIE-CBE because she understands the value of diversity in creating great teams. She wants to empower her female peers to get more involved, to share their ideas and to make a change for the future.
Kelsey hopes that her involvement with the Usask WIE-CBE Chapter will allow her to help female students in Chemical Engineering have the most fulfilling university experience they can. A fun fact:: Kelsey is very adventurous and even went bungee jumping last summer!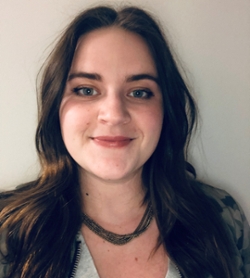 Dylan Scheibelhoffer, Communications Coordinator:
Dylan was born and raised in Saskatoon and is currently in the first year of her Master of Science Program. Dylan believes it is important to have increased visibility of females involved in STEM, both in the industry and in research. She hopes to inspire young females and spark their interest in engineering as well as help current engineering students succeed in their education and future careers. Outside of the lab, Dylan enjoys baking and spending time with her three dogs!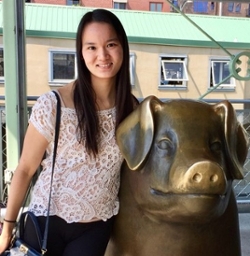 Kate DeVito-Porter, Awards Coordinator
Kate grew up in Saskatoon and is currently in her second year of Chemical Engineering at USask. Kate believes the WIE-CBE Usask Chapter is a great tool for engineering outreach that will allow her to help make engineering more accessible to all. She hopes to spread awareness of the diverse opportunities available to those pursuing a career in engineering. One of Kate's biggest accomplishments is learning to trust herself and to have the confidence to take chances. This has led her to many great opportunities both in her personal and professional life. In her spare time, Kate loves to bake, as she thinks it is very similar to a chemistry experiment – except she gets to eat the finished product!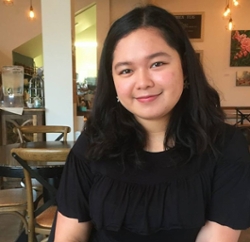 Jewel Manlapaz, Website Coordinator
Jewel grew up in the Philippines and moved to Canada with her family when she was 15. She is currently in her fourth year of studying Chemical Engineering. Jewel thinks it can be daunting for a young woman to pursue a career in a male-dominated profession, which is why she believes it is crucial to have female representation in engineering. She hopes to give a voice for women in USask Engineering in the university, and to help provide them with opportunities for professional development. A personal accomplishment: Jewel is proud of attaining a 16-month engineering internship and moving to Calgary by herself. A fun fact: she enjoys writing stories.
How to join us
We'd love for you to become part of Women in Engineering: Department of Chemical and Biological Engineering.
To join or to learn more, please email communications coordinator Nathalie Baquerizo at ncb940@mail.usask.ca 
Conferences
Biennial CCWESTT Conference
The Canadian Coalition of Women in Engineering, Science, Trades and Technology (CCWESTT) is Canada's premier national, nonprofit organization of groups, institutions and industries with a mission to expand the attraction, retention, and promotion of women. Check back for news of upcoming conferences.