USask SIGMA is the only program of its kind in Canada, creating entrepreneurs ready for the real world.
About
SIGMA will help you learn the craft of entrepreneurship and technological innovation. It is led by Tate N. Cao, Assistant Professor, La Borde Chair in Engineering Entrepreneurship, College of Engineering, University of Saskatchewan.
When you bring your proof-of-concept or ready-to-market technology to SIGMA, we will help you investigate its viability by identifying an initial market, defining and building the right product and securing customers or partners.
USask SIGMA leverages a unique systematic approach to build the human capacity in you - the company founders – while supporting you and removing financial barriers.
---
What SIGMA offers
Peer learning and community building
This is the core of the program. Teams provide a progress report each week. Then you and your teammates will field questions and ask for help from the group, if needed. Teams often work together to help each other out.
Teams form a strong community of peer entrepreneurs who support each other during the program and beyond.
Mentorship and coaching
SIGMA will support your team with one-on-one coaching sessions and meetings with external mentors carefully matched to the needs of the student ventures.
Simulated board meetings
Once a month, your team will present your progress to an external board and get feedback in a mock board meeting session. Board members are leaders from industry.
Guest talks, seminar series and network building
Through SIGMA's seminar series and guest speakers we will help your team expand your knowledge of entrepreneurship, technology, leadership and the nuts and bolts of the entrepreneurial journey. You'll benefit from introductions to relevant industry experts, investors, and other entrepreneurs in the ecosystem.
Financial Assistance
If you are a current USask student, you will receive a stipend of $2,000 per month during the program. As you and your teammates progress through the program and meet specific milestones, you may receive additional support of up to $10,000 for your venture, allocated at the discretion of the program staff and a panel of experts.
Preparing to launch
Selected teams will work to further their venture by identifying their beachhead market, refining the product, and securing initial customers or partners so that they are ready to launch. 
---
Who should apply?
SIGMA is for current USask students. This means any undergraduate or graduate students enrolled in a degree or certificate program. If you graduated in June 2022 you are considered a current student.
Your team must have at least two members and no more than five. All should be founders or founder-level (owning 20 percent or more of the company).
Your team must be an early-stage venture that is solving a real-world problem using innovative solutions at the ISC Technology Readiness Level Scale of 7 or higher.
Please note SIMGA is a capstone program designed for teams who have been working on their idea-stage venture for two to six months before applying and who have shown passion and commitment for moving their ideas forward.
If you are just starting to explore entrepreneurship, take a look at our academic courses:
GE490 (Innovation Speaker Series)
GE431 (Innovation Product and Venture Creation)
GE495 (Innovation Design Capstone)
You can also check out our Technological Innovation Certificate. There are also workshops on entrepreneurship offered throughout the academic year.
---
Apply
SIGMA applications open on March 1 at 10:00AM CST
Applications will be reviewed by a panel of faculty and industry professionals, as well as angel investors.
Applications are due April 15th at 11:59 CST
For any questions, please email techinnovation@usask.ca 
All activities are scheduled in the CST-6 time zone.
Participants are expected to attend all meetings and activities.
---
Success stories
RUNNR is an innovative delivery scheduling platform for companies in the service industrial markets (agriculture, transportation, parts, construction) who use couriers and hotshot services daily. 
Team: Louis Kolla, Nicholas Kolla, Liam Bigelow
Teachingate is an online educational platform that assists students around the world with their educational needs in engineering (mechanical, electrical, computer, chemical, civil), science, math, chemistry and physics. 
Team: Daniel Etesami, Mohsen Hadian, Rosa Moazed, Azita Khorsandi
ECOWATER addresses optimization of wastewater treatment plants with its innovative Eco-Model and EcoFilter to remove pollutants, including pharmaceuticals, from wastewater before it's released back into the environment.
Team: Khaled Zoroufchi Benis, Shahab Minaei, Mohsen Asadi
ValuPal is a web application for people who are new to derivatives trading, helping them analyze different trading opportunities and formulate and analyze effective trading strategies. 
Team: Matt Neufeldt, Dan Richmond-Martina, Adam Bouthillette
Autumn provides productivity software for high-mix low-volume businesses such as machine shops and other custom manufacturers who need help with managing and tracking progress of work in their shops. 
Team: Jordan Sinclair, Nelson Wani and Daylon Ball 
---
Partners
Volunteers and mentors
Prachi Bandivadekar, Administrative Coordinator, USask Engineering
Vernon Bachiu, Lecturer, USask Edwards School of Business
Annette Bester, Partner, National Leader Credit Unions, MNP
Chris Bowman, Technology Transfer Manager, USask Research Excellence and Innovation
Deven Dave, Executive Director, M Young Centre of Entrepreneurship & Venture Capital
Alisha Esmail, Founder & CEO, Road Coffee
Amanda Evitts, Lecturer, USask Edwards School of Business
Joel Frey, Assistant Professor, USask Engineering
Aaron Genest, Applications Engineer Manager, Siemens Software
Joseph A. Gill, Startup Lawyer, Partner, McKercher LLP
Rylan Grant, CEO, Delta Point Wireless
Derek Hoffman, Lawyer, Strategic Advisor, Founder, Hoffman Group
Tom Kishchuk, Managing Director, TPK Management Consulting Inc.
Helen Power, Assistant Librarian, USask Engineering
Dallas Price, Programs & Marketing Lead, Co.Labs / Co-Founder, Leo Prestte agency
Leejay Schmidt, iOS Developer, Facebook
Mike Stefaniuk, Director, Business Development (IoT and Digital Transformation), SaskTel
Jeff Thackeray, Director, Market Intelligence, Saskatchewan Trade and Export Partnership
John Visser, Senior Consultant, SR & ED tax credit, MNP
Jeanie Willis, Seaman Chair in Professional Communications & Assistant Professor, College of Engineering, University of Saskatchewan
David Yee, SIGMA Executive in Residence
Stephanie Yong, Lecturer, USask Edwards School of Business
Awards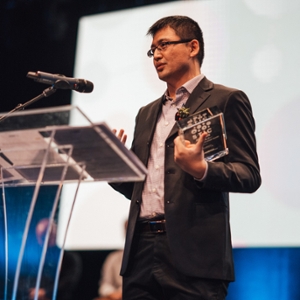 SIGMA won the Outstanding Initiative Award at the 2021 Science, Technology, Innovation and Collaboration (STIC) Awards in December 2021. The STIC awards, hosted by the Saskatoon Regional Economic Development Authority (SREDA), celebrate the people, projects and products leading science and tech in the city. 
"We believe that in the community we can support the development of knowledge, passion and skills as our students take action to be the engineers the world needs," said SIGMA founder Tate Cao as he accepted the award.