It started out like any other semester, but the COVID-19 pandemic means there'll never be another term like the one that just wrapped up at the University of Saskatchewan (USask) College of Engineering.
In a matter of days, and at one of the busiest times of the year – mid March – the college transformed from business as usual to remote operation. Students finished labs online and wrote exams from home, instructors adapted on the fly to online teaching and grading, and college staff hurriedly moved out of the Engineering Building, too – joining the exodus to spare bedrooms, dining room tables and home offices.
Looking at it now, Dean Suzanne Kresta is thankful, because the alternative was to cancel or delay the end of classes, leaving the school year, and students, in limbo.
"We had to accept the circumstances and plan quickly. There were challenges, but we found solutions and learned along the way. We've gained some resilience that will serve us well as we work out what's going to happen this fall, and beyond."
Kresta is especially heartened that nearly all of Engineering's operations were moved out of the building several days ahead of the USask deadline. "It took a heroic effort by our faculty and students to move all teaching and learning operations online in the space of four days, with no advance warning.
"If there were any extra days we could have people safe at home, I wanted to take advantage of them," she says. "From what we know about how COVID-19 spreads, the impact could be exponential in the long run."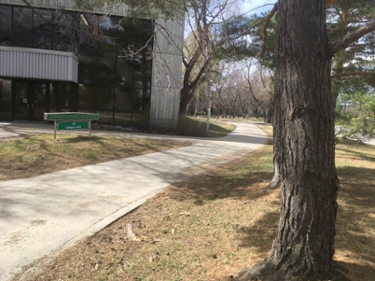 In the last few hours before the Engineering Building was all but closed, Kresta did a walk through, finding empty halls, dark offices and quiet labs – well, mostly quiet.
Brian Berscheid, a professor in the Department of Electrical and Computer Engineering, was still there, making arrangements for students to complete a semester-long project in which they designed a digital signal processing system.
Under normal conditions, students would have been in the lab to do their oral design exam. Instead, these were done via WebEx and rather than use hardware in the lab to verify that their system achieved what they intended, students instead used software called ModelSim to mathematically analyze how well their systems worked.
In another lab, technician Doug Bitner was recording PhD student Edgar Martinez-Soberanes, who was demonstrating the apparatus and procedures for a 400-level Automation in Engineering lab assignment.
Finishing up the lab instruction was not simply a "nice to have" for the college, says Associate Dean Academic Bruce Sparling. Because college programs are nationally accredited by Engineers Canada, it must provide students with the programming that's indicated in the curriculum, he explains.
That said, there's another reason why staff and faculty went to extra lengths to ensure students could complete the labs, he adds.
"As a college, we take pride in the in-person lab experience. It's a hallmark of our program and we didn't want to let go of it if we didn't have to."
Kresta estimates that when USask announced classes were moving online, 90 percent of the faculty in the college were new to remote teaching. With support from the Gwenna Moss Centre for Teaching and Learning and the college's own Innovative Teaching and Research in Engineering Education Group (inTREEg), profs made the transition.
"It wasn't perfect, but I think it was absolutely remarkable it was pulled off so smoothly," Sparling says.
As classes ended, it was clear students across USask were feeling significant anxiety about exams and the potential that their final marks would take a hit. In a virtual town hall with undergrads, Kresta remarked that engineering deans across Canada were hearing similar concerns: students were afraid they were going to fail their classes, while professors worried about academic integrity and students universally acing their finals.
"What we've decided to do is accept the circumstances that we're in, do the best we can to have an examination that's meaningful, that sets students up to have integrity in how they behave, and incentivizes people to continue to engage with the material," Kresta told undergrads.
Kelsey Schmidt, who will graduate with her chemical engineering degree this spring, says the move to online learning did make her nervous, because things were out of her control. But she appreciated the extra communication from the college and knowing it was dedicated to getting the semester done in spite of the pandemic. "Everything escalated quite quickly, but that was a good thing."
With no classes to attend, she says staying organized was key because she couldn't rely on in-person chats with classmates for informal reminders about what was coming due. Looking back now, one of the main lessons learned is "just being able to roll with the punches, being flexible and open to the change," Schmidt says.
Though the conclusion of finals is usually the signal for convocation plans to ramp up, that's not happening this year. That in-person celebration is cancelled as are other events where Engineering students would normally celebrate completing their degrees – specifically, each discipline's graduation banquet and the special ceremony where grads receive their iron rings, traditionally worn by all engineers.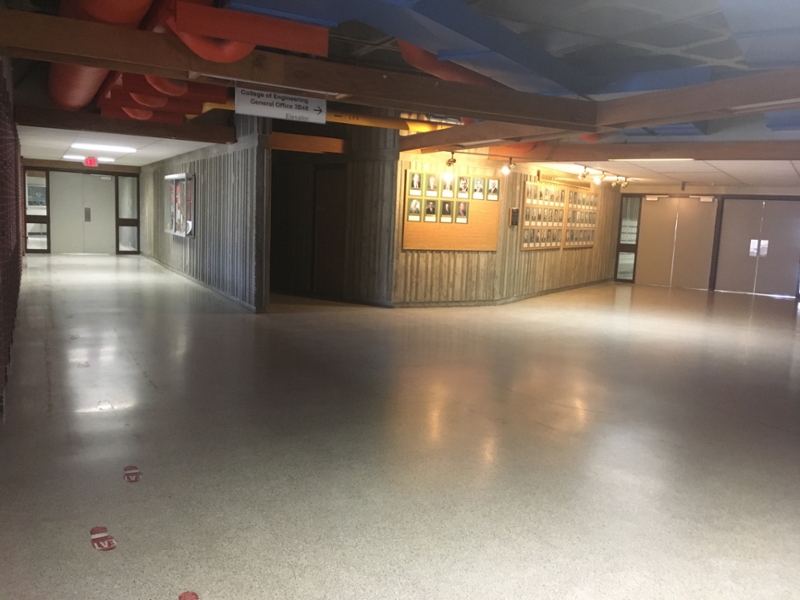 Students in electrical engineering saw their March 14 grad banquet called off with a day's notice. "At the time, we didn't know this was the start of everything being cancelled," says Dan Bedard, chair of that discipline's student chapter. "Overall, there was a fair amount of disappointment."
But as new engineers tasked with a professional responsibility to keep people safe, he says it wasn't hard to grasp the principle at stake. "From the very beginning at this college, we're taught about the safety of the public and the importance of protecting people."
Overall, Kresta is equal parts amazed and proud of how the college community adapted, not to mention how faculty, staff and students alike then turned their attention to solving COVID-19 problems – designing 3D printable masks, fabricating "ear saver" bands that make masks more comfortable, and tracking down personal protective equipment to donate to the health authority. 
For her, all of it exemplifies the "git 'er done" Saskatchewan attitude she discovered when she joined the college two years ago. Amid the upheaval, she wants to ensure people in her college appreciate what they've accomplished – saving the semester and keeping themselves safe – while at the same time building new skills and resilience.
This is especially important now, as a large-scale reopening of the USask campus is not planned within the next several weeks. Within Engineering, Kresta says the college will continue to develop solutions to keep all employees engaged and working, so that lay-offs will be considered only as a last resort.   
"Our community worked efficiently and effectively to deliver what was needed to successfully finish the semester," says Kresta. In an email to the college, she summed it up this way: "We don't often get to see love made visible – but we have not only delivered, we have done it with commitment and with solidarity."