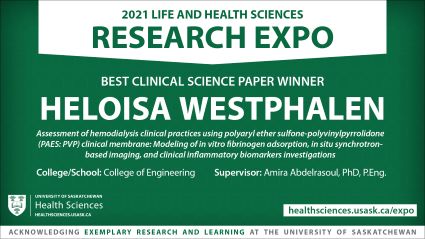 Westphalen, a member of Dr. Amira Abdelrasoul's research group in the Department of Chemical and Biological Engineering, was thrilled when she learned her paper would receive the top award at the expo, which was held online May 6.
"When they announced the results I was so proud and excited since the competition is of the highest level of academic excellence," she said in an email.
"I really appreciate the recognition and could not have done without the support of my supervisor, Dr. Abdelrasoul and the collaboration of our co-authors Dr. Shoker and Dr. Zhu."
Abdelrasoul noted that it was a significant feat to have a submission from the College of Engineering win the best paper award in a health sciences-focused event.
"Our research direction is full of challenges for each member of my research group, and winning the best clinical paper award, as engineers, in the Life and Health Sciences Research Expo, is one of those great challenges," Abdelrasoul said via email.
"I am so proud of Heloisa to be named the winner and her enthusiasm to work hard. I am confident she will continue performing high quality research and will achieve new milestones."
Wesphalen, who joined Abdelrasoul's research group in 2019, is seeking to advance membrane technology in biomedical applications, specifically hemodialysis, which is a life-sustaining treatment for kidney failure patients; it purifies a patient's blood using membrane filters inside the dialysis machine in the hospital. 
The paper she submitted for the expo is entitled: "Assessment of hemodialysis clinical practices using polyaryl ether sulfone-polyvinylpyrrolidone (PAES:PVP) clinical membrane: Modelling of in vitro fibrinogen adsorption, in situ synchrotron-based imaging, and clinical inflammatory biomarkers investigations
"Kidney failure has no cure and millions of people rely on hemodialysis to manage their condition" Westphalen said. "My research findings will help improve clinical practices in hemodialysis treatment and will guide the development of novel hemodialysis membrane materials.
"This research is very important due to the increasing number of people diagnosed with chronic kidney disease every year and the financial burden that comes with the treatment."
Abdelrasoul said the research conducted for the paper significantly contributed to the team's understanding of why and how patients experience side effects during hemodialysis due to the membrane used and the clinical practices in the Canadian hospitals.
"The awarded paper is a key study in my interdisciplinary research program towards solving the existing hemodialysis problems to decrease the unacceptably high morbidity and mortality rates, increase the quality of life of kidney failure patients, and decrease the extremely high costs to the healthcare system in Canada and beyond," said Abdelrasoul.