When the federal government asked Natural Resources Canada (NRCan) in 2017 to map out a path for a low-carbon energy future the department returned a thoughtful and comprehensive report on Canada's Energy Transition, with a recurring theme throughout.
Electrify everything.
If that sounds like a simple fix, just have a chat with Terry Fonstad.
The Associate Dean, Research and Partnerships at the University of Saskatchewan (USask) College of Engineering has a 30,000-foot view of the energy landscape. With experience in large-scale research, he is among the leaders of the energy engineering cluster in the college, which is investigating everything from reliable smart grids that can incorporate renewable energy sources to biomass fuels that are a clean alternative to fossil fuels.
Creating knowledge and providing solutions in these areas for Saskatchewan and the world is what drives the deep pool of talented researchers in the college. Their work to explore and engineer the future of energy is having a global impact and is delivering on the USask promise to be the university our world needs.
Leading-edge researchers in the college have been seeking solutions to the net zero problem for several decades, and the reasons are legion. Fonstad, who is also an environmental engineer, starts with some perspective on just how many factors come into play when working to achieve a clean energy/net zero future.
When U.S. President Joe Biden was elected he announced he was going to buy 640,000 electric vehicles. The whole federal fleet was going to be electric.
"The president of Toyota and Elon Musk (of Tesla), two main electric vehicle manufacturers, replied with, 'If you're going to do that, two things have to happen. You need grid modernization . . . and the energy has to come from somewhere else and it takes minerals. It takes copper wires, it takes lithium batteries, it takes all kinds of things to produce these electric vehicles and this electric grid. You need to increase mining at least by an order of magnitude.'
"It's kind of an awakening of people with this utopian ideal of a clean environment. You need that utopian dream. But then reality sets in; if we're going to get that, you're going to need the resources to do that."
In Fonstad's view, Saskatchewan is not only the perfect place to unearth those resources, but also to execute research on new energy grids and renewable energy sources — partly because of our extreme weather.
"In Saskatchewan, we could put everything on wind and solar, except the problem is our peak demand is somewhere around mid-January on a day when there is no wind, potentially overcast skies and the daylight hours are short . . . so there has to be some sort of back-up."
The way things stand today, that back-up would have to be a connection to Manitoba Hydro or natural gas. Solar and wind battery storage technology is not sufficient, and geothermal won't cover the need either.
Plus, the system was originally set up to go only in one direction — from the power producer to the home or business. How do we, for example, connect small solar communities to the grid, while also allowing them to operate independently?
These issues demonstrate the importance of the college's smart grid and microgrid research, much of it being done in partnership with Saskatchewan corporations, municipalities and industry. Saskatchewan's First Nations are also quickly becoming leaders in the renewable energy sector.
Tony Chung: Solving critical technical challenges to modernize power grids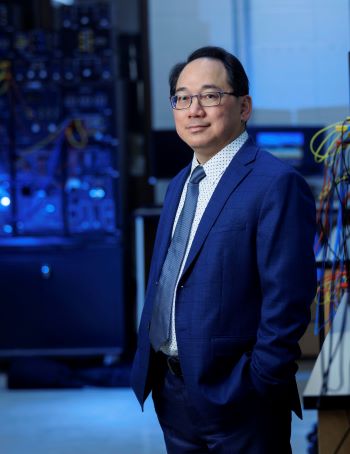 C.Y. (Tony) Chung, has been working on these problems since before 2014. That's when he formed the SMARTGEN Lab to help Canada create a safe, reliable, and sustainable power grid while adapting it to the use of renewable energy sources.
Chung is the Natural Sciences and Engineering Research Council (NSERC)/SaskPower Senior Industrial Research Chair in Smart Grid Technologies and Professor and SaskPower Chair in Power Systems Engineering. He is also the recipient of the 2021 IEEE Canada P.D. Ziogas Electric Power Award and the 2020-2021 Saskatoon Engineering Society Educator of the Year Award.
Chung came to USask from Hong Kong because of the college's reputation in energy engineering and the province's interesting weather.
"The power grid in Saskatchewan faces extreme weather conditions. It can be very hot, and it can be very cold throughout the year. It creates a lot of problems for the power engineer to manage the grid," Chung said.
"Now, many cities are suffering from extreme weather. Climate change is increasingly coming into the picture. SaskPower has provided an excellent platform to study this problem, which will be very useful for many cities all over the world.
"Not many countries or cities have this facility to test their work on grid modernization under extreme weather conditions."
Traditional power systems are not "smart" enough to handle the fluctuating and intermittent output from renewable energy sources such as wind and solar power, he said.
"If the grid is not smart enough to handle those variations, then the system may collapse leading to large-scale blackouts."
Chung and his colleagues are using emerging sensing technologies to first gather accurate real-time information. Then they apply artificial intelligence to analyze the data, which cannot be done efficiently or quickly enough by a human brain, and predict possible courses of actions to maintain grid reliability.
"The program is very successful. We are earning a high reputation in Canada and internationally. We work closely with SaskPower to help solve a lot of critical technical challenges that SaskPower is facing in modernizing the power grid," Chung said.
SaskPower, too, has for decades been moving toward using more renewable energy and modernizing its grid, often seeking the expertise available at USask Engineering.  
"This collaboration goes back a very, very long time. We have had very close contacts with the College of Engineering going back to the time when the power systems research group was established there," said Elemer Demeter, SaskPower's Manager, Engineering Protection and Control, referring to the internationally recognized engineering research group established at the college in the 1960s.
That collaboration has gathered momentum in recent years.
"Things have improved significantly in the last decade in terms of the number of contacts and the number of projects," Demeter said, noting that this has coincided with SaskPower's gift to the college to establish the research chair.
"This is where Professor Tony Chung comes in," he said.
While the university selected him, "We were allowed to meet the prof and we had the ability to show the prof around in one of our power plants. This was in the middle of a Saskatchewan winter and the prof was from Hong Kong, so it was quite an experience for him. We were in the middle of a cold snap as well. We were laughing that if he would accept the job after this visit, we won't have problems with him leaving.
"We're excited that he was nominated and the college decided to offer him this position."
A significant additional benefit of Chung's program is the training of excellent students, some of whom go on to work with SaskPower, Demeter said. Part of the corporation's funding is allocated to paying grad students for their work.
"With this, they were able to bring in top students from across the world, so the quality of what NSERC calls highly qualified personnel skyrocketed," he said. "The quality of the people was outstanding in terms of technical preparation."
SaskPower also provided paid internships for grads approaching the end of their degrees. "Several of them were hired after the end of their four months and they are still working with us."
Demeter added that some of the work emerging from the college is being tested and proving successful, as SaskPower works toward its goal of reducing greenhouse gas emissions to 50 per cent below 2005 levels by 2030 – and reaching net zero by 2050.
"They have developed a forecasting tool for wind generation that we are testing at the system control centre. Lots of computers, many terminals and applications monitoring our power system, so it's a pretty cool facility," which is also bomb-proof and tornado-proof, he said.
"The software has turned out to be very good and we're working to see how we can make its use permanent."
Other applications are being designed to modernize the distribution system, particularly to accommodate customers who would like to generate their own power.
"This is extremely important for SaskPower because that's where the distributed green generation is coming up," Demeter said. "It needs a tremendous amount of innovation. The system built 50 years ago doesn't have the ability to accept generation at the end of customer loads. Everything is one direction. It goes from our generators to the user.
"The user wants to be a generator and that is a problem the system wasn't designed to solve," Demeter said.
Chung's group also works closely with Saskatoon Light and Power and the International Mineral Innovation Institute, among other partners.
Xiaodong Liang: Developing solutions for energy security in remote communities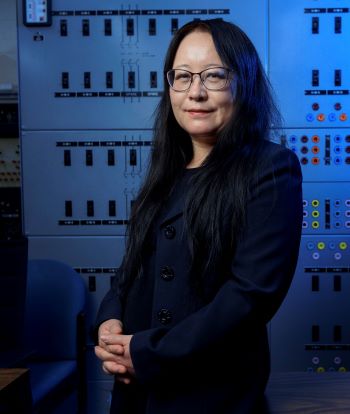 Xiaodong Liang's energy research is charting a new direction in Canada.
She is the Canada Research Chair in Technology Solutions for Energy Security in Remote, North and Indigenous Communities. It's the first chair of its kind in Canada.
Her program is aimed at developing a new system of isolated microgrids, powered by renewable energy such as wind and solar. About 200,000 Canadians in remote communities, along with others in northern global areas, rely largely on diesel for power generation. It's expensive and creates high emissions.
Liang has been engaged in smart grid, microgrid and renewable energy since 2013; the research chair program began in mid-2020. She came to USask after working at Washington State University and Memorial University of Newfoundland.
"Renewable energy-based microgrids provide clean energy, and offer the foundation of future smart grids," Liang said.
"Renewable energy is being developed very fast recently. This kind of technology can be integrated into power grids through power electronics devices, communication networks and advanced control schemes to allow the grid to become smart."
Saskatoon Light and Power, which co-funds Liang's project with the university, provides her team with system data so that she can validate her research with real, on-the-ground information.
"I very much appreciate all this collaboration because it gives my team a lot of advantage compared to just doing research closed-door. My plan is, I'm going to expand this collaboration with local industry."
She also hopes to collaborate with the Peter Ballantyne Cree Nation in Northern Saskatchewan and the Gwich'in Tribal Council communities in the Northwest Territories.
Liang's research includes seeking ways to monitor microgrid operations and detect problems; enable system self-healing; and integrate controls that respond to abrupt surges of power or sudden drops in load demand.
Bishnu Acharya: Turning low-value waste into high-value products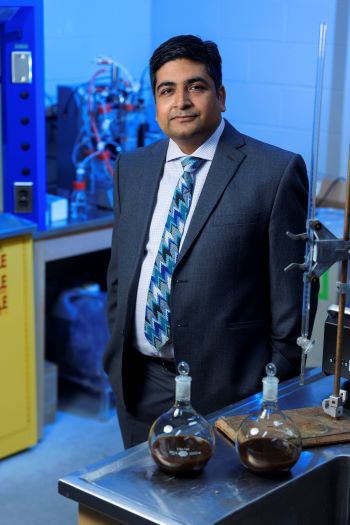 The grid research being undertaken by Chung and Liang is just one area where USask Engineering faculty are leading the way to solve energy-related problem. The college is also home to world-class researchers who are exploring how to use agricultural by-products to produce energy and other valuable products.
For example, Bishnu Acharya, the Saskatchewan Ministry of Agriculture Chair in Bioprocess Engineering, is investigating how to maximize returns to Saskatchewan's agri-food and bioproducts industries.
"My research incorporates a lot of different applications of agricultural biomass," said the Associate Professor in the Department of Chemical and Biological Engineering. "That includes energy and material applications and chemical applications which would eventually replace synthetic petroleum-based materials."
The applications include bioplastics for packaging as well as biofuels. For the latter, Acharya is working on a process of gasification to produce more hydrogen for energy applications, using flax, hemp wheat straw, and other kinds of waste biomass.
Again, it's an issue of finding baseload energy sources to supplement other renewable energy sources, while aiming for the net zero goal.
"You need some kind of alternative energy to provide that baseload. That alternative energy could be nuclear — they're looking at small nuclear reactors — and I feel the biomass can also fit into that context."
Flax straw, for example, has a very high energy value and can be pelleted for bioenergy production.
"However, there are a lot of challenges as well," he noted. "How far do we go to collect them, and what is the model for handling and transportation? They come with a lot of costs. We have to come up with a unique process that can meet those kinds of challenges."
He is in discussions with the Saskatchewan firm Prairies Clean Energy, a company looking into how to convert flax into energy pellets.
Acharya came to USask after being educated in Nepal, Thailand, and Dalhousie University in Halifax, before going to the University of PEI. His work has always focused on agricultural biomass, and "coming to the heartland of agriculture, especially with the interest of the ministry on how to use agricultural biomass (for) by-products, I feel that's a very good fit for me as well. That's my interest.
"It was my dream place to be. There are only a few institutions where this kind of research is happening at this scale."
Ajay Dalai: Breaking the trail on biofuels research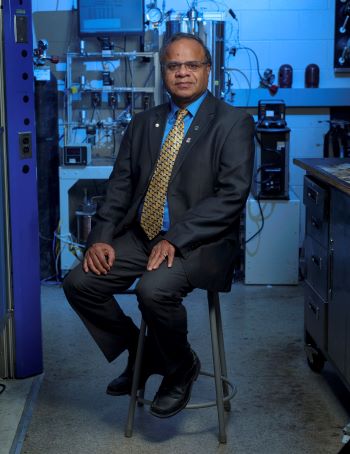 Ajay Dalai has been working in this field at USask since 2001, a clear sign that USask Engineering was on the leading edge of energy research many years before the public became aware of its potential benefits.
The Canada Research Chair (CRC) in Bioenergy and Environmentally Friendly Chemical Processing is developing alternatives to diesel from low-grade canola, waste cooking oil, sunflower, rapeseed and microalgae.
Dalai is working on converting vegetable oil to jet fuel, "because jet engines emit two per cent of the world's carbon dioxide," he noted.
He is also working on creating liquid fuel from organic waste products using hydrothermal liquefaction process and environmentally friendly solids as catalysts to improve gasoline and diesel and to remove nitrogen and sulphur pollutants from petroleum fuels through a process called "hydrotreating."
"When I started here, I was asked to develop a project on biofuels. I had no idea what biofuels were all about," he recalled.
"Around 2000, biodiesel was not on the radar of the province and Canada and also internationally. Petroleum was still driving the economics. We wanted to work on biodiesel and look at the processes to make this product in an environmentally friendly way," said Dalai, who is USask's longest-serving CRC.
Vast amounts of water have been historically required to "wash" impurities from diesel fuel, so Dalai began seeking alternative chemical reactions. Using water for the process is basically "misutilizing the resource," he said.
"We have really come a long way. We have made materials that don't leach into biodiesel and we can make very high quality product without water washing."
His team has worked with Foam Lake, Sask. company Milligan Bio to help optimize its canola-based biofuel creation process.
"What we (have) found is if you add one per cent biodiesel to diesel fuel, it can improve the lubricity in the diesel engine by 60 per cent. So, it is not just a fuel; it is very friendly to the diesel engine."
Other projects included turning glycerol by-product from the biodiesel-making process into propylene glycol, commonly used for de-icing airplane wings during winter months. Dalai and his team are working with Saskatoon firm NULIFE Green Tech to help commercialize their technology in this area.
Dalai is also engaged in biopellet research. He noted that Canada exports roughly $400 million worth of biopellets to Europe, Japan and the USA, where they are used for heat and power. Some regions have tax benefits for using biopellets, which helps drive their use.
"If we had similar incentives in Canada, I believe that a lot of companies would be producing a lot more biopellets, utilizing them for heat and power in place of natural gas coal and petroleum and this can benefit the environment quite a bit."
Indeed, 80 per cent of CO2 emissions come from fossil fuels, so replacing these non-renewable fuels with plant-based substitutes will have a significant environmental impact. Dalai's research is focused on the utilization of biomass materials for renewable energy and green chemicals production. It is well known that biomass is created by utilizing carbon dioxide from the atmosphere through photosynthesis and once biofuels are combusted for heat and power, carbon dioxide is emitted to the environment.
"This is basically a more-or-less carbon dioxide neutral process if we use the biofuels in place of fossil fuel."
The future of energy
Fonstad said there is huge opportunity on the biofuels side for the province.
"We're in the middle of 80 per cent of all the arable land in Canada. The (Cargill) canola crushing plant east of Saskatoon is reportedly the largest soft seed crush plant in North America, for example."
But we, and the world, must also look at expanding nuclear energy, he added.
"We have to look at the small reactors. We're sitting on 35 or 40 percent of the world's uranium, something that has magnitudes more energy than any other fuel we have."
What is needed next is energy economics to evaluate and analyze all of these advancements, which will become crucial for the province, the country and the world, he added.  The United Nations Sustainable Development Goal number 7 is to "ensure access to affordable, reliable, sustainable and modern energy for all."
Saskatchewan's provincial growth plan is well-aligned with all of these components and government policies are stimulating growth in these areas, he notes.
"All of a sudden, Saskatoon and USask becomes a big player. We have global institutes for water and food; why wouldn't we add a global institute for energy to complete the water-food-energy nexus?"
This article was originally published in the December 2021 issue of Thorough magazine.